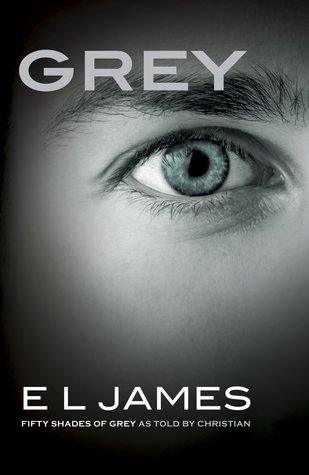 Christian Grey exercises control in all things; his world is neat, disciplined, and utterly empty—until the day that Anastasia Steele falls into his office, in a tangle of shapely limbs and tumbling brown hair. He tries to forget her, but instead is swept up in a storm of emotion he cannot comprehend and cannot resist. Unlike any woman he has known before, shy, unworldly Ana seems to see right through him—past the business prodigy and the penthouse lifestyle to Christian's cold, wounded heart.
Will being with Ana dispel the horrors of his childhood that haunt Christian every night? Or will his dark sexual desires, his compulsion to control, and the self-loathing that fills his soul drive this girl away and destroy the fragile hope she offers him?
This book is intended for mature audiences.
"Enlighten me, then."
―

E.L. James

,

Grey
I really enjoyed this read ! I was surprised to like it as much as I did. I thought it would be a little on the boring side since I had read the others already but to me it was completely different. I learned so much about Christian through reading his POV. It told me WHY he was all possessive and well CRAZY for Ana. It really gives the reader a FULL insight into the personality of Mr. Grey !
"I've never felt this desire, this…hunger before. It's a new feeling, new and shiny. I want so much from her: her trust, her obedience, her submission. I want her to be mine, but right now…I'm hers."




―

E.L. James

,

Grey
Most people look at Christian as this very DOMINATE male when in fact he is just a scared kid who doesn't know how to control these feelings. He tries so hard to fight them but in the end he just can't. He knows that this woman has got to him. He realizes that she has all the control. EL James does such a great job with showing us how Christian deals with all these emotions he is feeling about Anastasia. I enjoyed seeing HIS side and I'm excited for the next books. Definitely a 4 star book for me
I'm a former TV executive, wife and mother-of-two based in the leafy suburbs of West London. Since January 2012 my life has taken an extraordinary turn with the runaway success of the Fifty Shades Trilogy. From an early age I had always dreamt of writing stories that readers would fall in love with – and my dreams have come true, thanks to you guys. Now that life seems to have settled down a little, I want to crack on and write my next novel – another adult, provocative romance. I do hope you will enjoy that too.
Amazon.com - Read eBooks using the FREE Kindle Reading App on Most Devices